Limited Edition Prints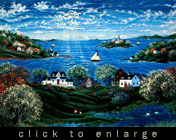 Sunnybrook Cove
by Carloyn West

The beauty of a peaceful village by the sea reminds us of what life is truly meant to be. This is your chance to own a fine art reproduction from internationally reknown American Folk artist Carolyn West. Each 20 x 14 litho print is numbered and signed by the artist and comes with a Certificate of Authenticity. The beauty of Sunnybrook Cove will become a treasure in your home or make a thoughful gift to someone you love.
Many thanks, and I hope to hear from you soon!
PRINT THIS PAGE
To order:
prints @ $150 ea. =  (2 or more @$140 ea.)

plus
Shipping & Handling:
plus
CT residents add 6% Sales Tax = 
Total = 

Deliver to:Name:

Address:

City, State, Zip:


Please allow 7 to 14 days for delivery, Sorry, no C.O.D's


Please
send form to:
Carolyn
West Studio
2979 Main Street

Stratford, CT 06614